View Menu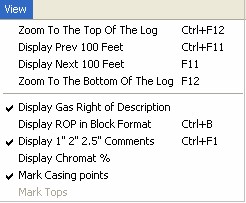 Most of these options are self explanatory, so I will only cover a few of them.
Display Gas Right of Description.
This option moves the Gas to the right of the Description column. Previous versions of Office Pro displayed the description column on the far right of the log.
Display 1" 2" 2.5" comments
By default, descriptions are not displayed if the log is not set to anything other than a 5" scale. If this option is selected, portions of the description will be displayed on any scale. (the entire description will not fit with scales less than 5")
Display Chromat%
This will display a small window in the description column that gives a percentage breakdown of the chromatograph.

Mark Casing points
Searches the description column to identify and mark casing points on the log. This method of identifying casing points will allow the program to work with older Suttles logs.
Mark Tops
Not functional yet, but coming soon