The Preview Window on the right side of the log displays the entire log. Move the mouse to any point on the preview, and the depth will be displayed. Left click or drag the mouse on the preview to scroll through the log.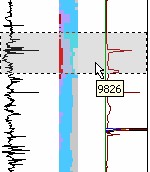 Note: The grayed area is 100' of log
Press and hold the

right mouse button to magnify

any point on the Log or the Preview window.