LAS ( Log ASCII Standard)
OfficePro generates version 2.0 Las files.

This file is compatible with any LAS import utility that is version 2.0 or later.

Data is output in 1' increments and includes ROP,Total Gas, %C1, %C2 , %C3, %C4, %C5, Porosity, Florescence, and Cut.
Generating an LAS File
Click on File in the top left corner of OfficePro

Click on Generate LAS (or one of its variants)

An LAS file with the same name as the log will be generated in the same folder as the log file.
( ie... If the log is named SLI1234.HLF, the LAS will be in the same folder and will be named SLI1234.LAS )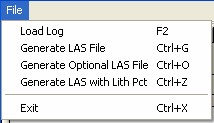 Explanation of LAS formats
This option creates a standard LAS file. This file does not include lithology or descriptions. This is the option that is most compatible with a wide variety of programs.
Generate Optional LAS File

(Note: This file is not LAS compliant)
Creates a non standard LAS file that includes a 10 character string that represents the lithology and includes the description column.
Creates a standard LAS file that includes lithology percentage. Each lithology symbol has a column with the percentage as the data.